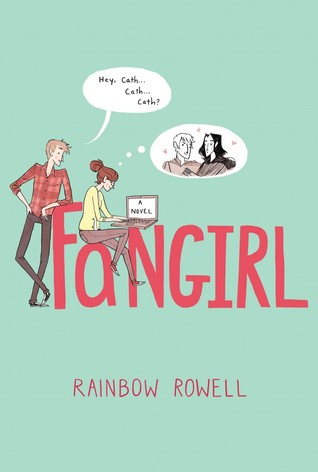 Fangirl by Rainbow Rowell
Published September 10th 2013
young adult, romance, contemporary
My rating: 4/ 5
GR plot summary: A coming-of-age tale of fan fiction, family and first love.
Cath is a Simon Snow fan.Okay, the whole world is a Simon Snow fan…But for Cath, being a fan is her life—and she's really good at it. She and her twin sister, Wren, ensconced themselves in the Simon Snow series when they were just kids; it's what got them through their mother leaving.Reading. Rereading. Hanging out in Simon Snow forums, writing Simon Snow fan fiction, dressing up like the characters for every movie premiere.
Cath's sister has mostly grown away from fandom, but Cath can't let go. She doesn't want to.Now that they're going to college, Wren has told Cath she doesn't want to be roommates. Cath is on her own, completely outside of her comfort zone. She's got a surly roommate with a charming, always-around boyfriend, a fiction-writing professor who thinks fan fiction is the end of the civilized world, a handsome classmate who only wants to talk about words… And she can't stop worrying about her dad, who's loving and fragile and has never really been alone.
For Cath, the question is: Can she do this?Can she make it without Wren holding her hand? Is she ready to start living her own life? Writing her own stories?And does she even want to move on if it means leaving Simon Snow behind?
My review: I can actually describe this book in one word – cute.
So, Cath is the example of an introverted teen (at least in the beginning). Like, at first she gets annoyed why everyone in college is so friendly, then she complains why no one smiles/talks to her, so no logic here, you see? That's why I didn't like Cath for the first 200 pages haha. Then she changes (Thanks, Levi and Reagan!).
I liked seeing how Cath & Wren's (they are twins) relationship progresses. I have a sister as well, and of course sometimes we fight. Through this book I got a better look at the situation.
However, it took me about 3 weeks to finish this book as for me it was boring at times and things were taking slow pace.
What I didn't like: (some spoilers here)
Nick suddenly became the bad guy. At first the reader gets introduced to nice, clever boy, and then…it feels like the author thought "oh, I don't need him anymore in my story. Let's get rid of him and make him the bad guy". Of course I don't respect what he did to Cath, BUT that came out of blue.
Cath likes Nick, Cath likes Nick… AND THEN Cath likes Levi – the switch was so quick.
There is no information about the progression of Cath & Laura's (Laura is Cath's mother) relationship. Or may be there wasn't any progression at all. Though I wish there was.
Still, this coming of age novel deals with some family and college issues. If you have enjoyed reading other Rainbow Rowell's books &/ in the mood for a light read, I recommend it to you.